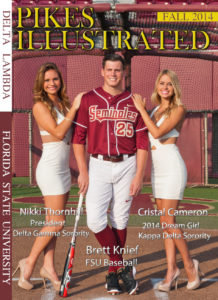 Chris Merganthaler '12, Chief Justice of the Honor Court;
Lucas Ryan '12, Chief Justice, Greek Conduct Board;
Clark Rahman '12, IFC President and 2016 Runner-Up Homecoming Chief.
Five of the last 13 FSU Student Body Presidents are Delta Lambda alumni.
Join the Old Guard of Delta Lambda
Your gift assists with Pi Kappa Alpha's continued leadership edge in building tomorrow's professional and societal leaders—young men with character and values, with strong moral compasses to lead effectively, and with ethics and integrity. Ensure our continued impact for future leaders—they thank you in advance!
Error: product ID is invalid.